Grasslands under attack from record number of crane fly larvae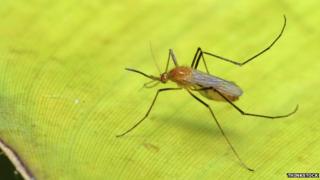 Scotland's grassland are under attack as record number of larvae are recorded, according to a new report.
A survey carried out by Rural Scotland found the highest amount of leatherjacket larvae in 39 years.
Experts say that this could lead to large areas of grassland being devastated by the insects.
The dramatic increase in the number of the insects could be down to global warming and climate change.
Leatherjacket is the name given to the grubs of the crane fly or "daddy-long-legs". They live just below soil level and, from August through to the following June, eat the roots of grasses and other plants.
Prof Davy McCracken, who led the survey, said: "While over 90% of the fields sampled contained more than 0.6 million grubs per hectare nearly 60% of the fields harboured populations of over two million per hectare.
"Densities like that, if left untreated, are likely to result in severe and visible damage to the grass sward or any spring crops sown after the grass.
He added: "One result showed 13.6 million grubs per hectare, the highest density we have ever found in one field!"
Chemicals
Domestic gardeners do not have access to the chemicals needed to tackle the problem but farmers and some green keepers do.
The environmental survey has been carried out for 14 years and is part funded by the Scottish government.
Data gathered is used in future environmental campaigns and planning.
Prof McCracken added: "Farmers have been calling in my SAC Consulting colleagues to check the damage being done, but this year we are also getting requests from urban businesses with large areas of grassland.
"It is also true to say that the problem applies far more widely across the country than in previous years, when it tended to be more localised in west and central Scotland."
A density of over 0.6 million grubs per ha in a grassland field is, if left untreated, likely to result in severe damage to any cereals subsequently sown into that field in the spring.
An untreated field with over one million grubs per ha is likely to show reduced grass growth, while at over two million per hectare an untreated field will show severe and visible damage to the sward.
'Insurance' spraying
However Prof McCracken advised caution.
"Uninformed insurance spraying is not recommended", he said. "Grub populations can vary, not only from area to area but also within an area and from field to field on the same farm. It is essential that an assessment of leatherjacket densities is conducted prior to deciding whether any insecticide application is necessary. If it is needed then an insecticide should be applied as soon as the ground is dry enough to bear machinery."
SAC Consulting recommends that pre-ploughing insecticide treatments when the field is still under grass are more effective than those applied once any damage is under way in the spring-sown crop.
Assessment of leatherjacket infestations in individual fields can be undertaken as a chargeable service; details of costs are available from SAC Consulting's local Farm & Rural Business Services Offices.
SRUC receives financial support from the Scottish Government towards the cost of this survey and a proportion of the remaining costs were offset by the farmers involved having their fields sampled at a substantially discounted rate.