Controlled explosion of 'suspicious' object at flats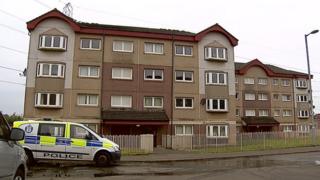 Police have confirmed that a controlled explosion has been carried out on a "suspicious" object found in North Lanarkshire.
Bomb disposal experts were called to a block of flats in Birkshaw Brae, Wishaw, after police with a warrant searched the property.
Nearby residents were asked to leave their homes after the operation on Friday afternoon.
The controlled explosion was carried out shortly after 19:00.
Residents were later allowed to return to their homes.
The BBC understands the incident was not terrorism-related.