Men attacked after Celtic club party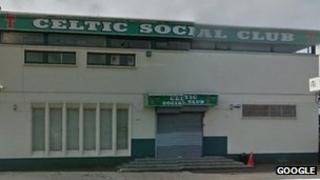 A group of four men were attacked by a gang of about 15 local youths after an engagement party at the Celtic Supporters Club in Glasgow.
Police said the men were taken to Glasgow Royal Infirmary for treatment after the "unprovoked attack" at about 00:45 on Sunday.
The four men, all in their 20s, had been trying to get a taxi after the event on London Road in the east end.
Their attackers were white, in their 20s and wearing track suits.
Police said one of the attackers engaged the men in a conversation before the attack.
The victims, who were aged 23, 24, 25 and 27, have been released from hospital.
The attackers were said to be between 20 and 25 and it is believed they were local to the area.
Det Con Edwina Perry said: "This has been a unprovoked attack on a group of men on a night out. It is clear these youths were intent on causing trouble.
"I am appealing to local people who may have some knowledge about these youths to get in touch with us.
"We know that a lot of people were at the engagement party at the club and guests were ordering taxis to get home, I would like to appeal to any taxi drivers who were in the area and who may have seen something or who may have seen these youths, perhaps earlier in the night, please call us."