Glasgow 2014: Apology over Games tickets delays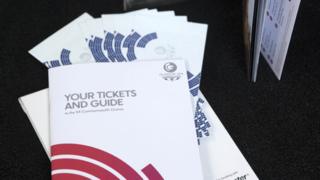 Organisers of the Commonwealth Games in Glasgow have apologised for the "frustrating experience" faced by many people trying to buy tickets.
An extra 100,000 tickets, for all 17 sports and the opening and closing ceremonies, went on sale at 10:00 on Monday.
People reported errors and long waits on the ticket website and phone line.
Glasgow 2014 closed the website for an hour at midnight in order to investigate the problems.
A spokesman added: "We will provide a further update once we have completed this important assessment. Thank you for your continued support and patience."
Earlier the Games organisers said there had been "very high levels of demand" but insisted queues were reducing.
In a statement released on Monday evening, Gordon Arthur, chief communications officer for Glasgow 2014, said: "Thousands of people have successfully secured Games tickets today.
"However we understand that many people have had a frustrating experience with queuing and transacting on the Glasgow 2014 ticketing website and with the call centre.
"Our continued focus is on resolving these issues and we thank everyone sincerely for their patience."
'Unsatisfactory experience'
He added: "The queue is now reducing and we are seeing increasing numbers of customers successfully buying tickets.
"However, we are also aware that there are some people who are still having significant issues and have been on the website for a very long time.
"We appreciate this is an unsatisfactory experience and apologise for the inconvenience caused."
Glasgow 2014 said it would provide further updates via its website, Twitter and Facebook.
Some people took to social media sites and contacted the BBC to criticise the ticketing process.
Lindsey Millen, who emailed the BBC, said: "I have been in the queue for over six hours, and for the last five hours I have been presented with the same message stating I am in the queue and my wait time is 0-30 minutes.
"My colleague who logged on to a different computer next to me at the exact same time successfully obtained tickets almost three hours ago."
Mark Chamberlayne, another person waiting in the online queue to buy tickets, said: "It's quite disgraceful. We already have tickets for the final night of athletics and have a 900-mile round trip to see this event but can't get any more. Don't think we will bother at this rate. What an awful website."
Sarah Patrick, tweeted: "Trying to get Commonwealth Games tickets for Glasgow 2014 is an absolute joke! I've been in the queue since 10."
Another frustrated hopeful, Careen Sloan, said: "I logged onto the site at 11:30 this morning.
"By 15:00 I was still waiting and the time waiting indicator showed 0-30 minutes. When I went to a meeting at 19:00 it was still the same and when I came home from my meeting at 21:30 I was still in the queue! I have given up."
Organisers had kept back a share for competing nations, sponsors and an additional contingency fund.
They were keen to avoid a repeat of the Olympics where there were empty seats at apparently sold out events.
The organisers also said the finalising of venue layouts and seating plans for the Games had allowed them to release extra tickets.
Meanwhile, the first batch of tickets for those who secured them in the earlier sales phases are now being sent out.
Organisers said deliveries would continue over the coming weeks, with everyone who has bought Glasgow 2014 tickets expected to receive them in May.
Recipients will receive their tickets in a specially-designed Spectator Guide.
It will include pull-out maps showing how to get around venues as well as travel information.
David Grevemberg, chief executive of Glasgow 2014 said: "It's so exciting to be at the point where hundreds and thousands of sports fans across the country are starting to receive their tickets and can really start to look forward to the fantastic summer of sport that they will be part of.
"At the same time, we are also delighted to be able to offer the last big chance for sports fans to get tickets for the Games with more than 100,000 extra tickets for sale from today.
"With less than three months to go, the excitement is building and this is the next step towards Glasgow and Scotland's greatest-ever summer of world-class sport."
Police Scotland's Assistant Chief Constable Derek Robertson, said: "Police Scotland will be vigilant towards preventing ticketing crime including tackling unauthorised vendors selling tickets online and would ask for the public to report any instances of unauthorised selling of tickets."