Ban on discarding healthy fish could harm wildlife, say academics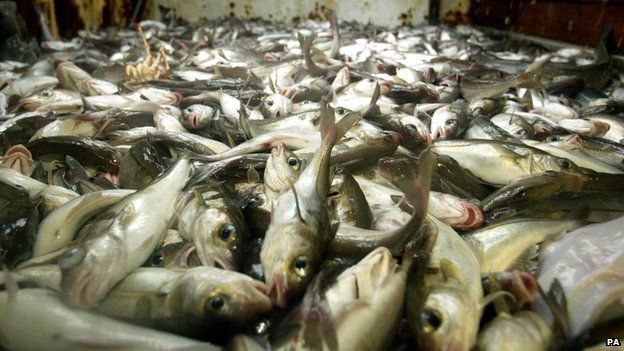 A ban on skippers throwing unwanted fish back into the sea may actually be bad for the environment, according to academics.
Researchers in Glasgow said the planned outlawing of "discards" could deprive birds and other animals of food.
From next year fishing boats will be obliged to land unwanted species caught in their nets.
The study suggests changing fishing practices so unwanted fish are no longer captured in the first place.
The practice of throwing dead fish back into the sea increased because of strict EU quotas on which fish could be landed, part of efforts to conserve fish stocks.
In 2009, Scottish vessels were forced by the Common Fisheries Policy to discard almost 28,000 tonnes of fish, about a quarter of the white fish catch, valued at £33m.
The practice was changed after public outcry, reflected in TV shows such as Hugh's Fish Fight, presented by Hugh Fearnley-Whittingstall.
But the study, by the University of Strathclyde, found that landing previously discarded fish could have unintended consequences without benefiting fish stocks.
Professor Mike Heath said: "Wildlife everywhere capitalises on waste from human activity, and discarded fish are food for a wide range of seabirds, marine mammals, seabed animals and other fish.
"Therefore, banning discards of fish could have unintended effects on the ecosystem."
The study, being published in the journal Nature Communication, found the problem of discards was not new, with MPs debating the issue as far back as the 19th Century.
The team favour changing fishing practices so that unwanted fish are no longer captured.
This, they say, would have "dramatic" effects on the entire ecosystem, with major benefits for birds, mammals, and fish stocks.
Dr Robin Cook, who worked on the study, said: "Inflating landing quotas to accommodate the entire catch is an inadequate solution with few conservation benefits.
"On the other hand, the effective reductions in harvest rates resulting from changes in fishing practices to eliminate the capture of unwanted fish can deliver conservation benefits, especially in heavily exploited systems."
Bertie Armstrong, chief executive of the Scottish Fishermen's Federation, said he shared the concerns about the impact of the discards ban.
He said: "There does, in recent years, appear to be a most interesting correlation between declines in the breeding success of our precious seabirds that matches closely with the quite staggering reductions in fishing effort over the last decade or so.
"Our fishermen have also been using increasingly selective gear in recent years to reduce discards, which has further compounded the impact."
The Scottish government said ending the practice of throwing healthy, dead fish back into the sea would bring environmental benefits.
A spokesman said: "Scottish whitefish fishermen are already landing more fish, but discarding less - with overall discards of cod, haddock and whiting reduced from 47% of catch in 2007 to 18% in 2012, whilst landings have increased by 6,056 tonnes.
"We will consider the report's findings, although we have no evidence that this is having an adverse impact on wildlife."
The European Commission conceded that the ban might affect seabirds in the short term but said there was evidence they would swiftly adapt.
A spokeswoman for the fisheries commissioner said: "It is well known that species of seabirds such as herring gulls and fulmars have grown accustomed to feeding on discards and their populations have increased significantly.
"Undoubtedly such species will be impacted in the short term as a result of the landing obligation.
"But recent research carried out by scientists from Plymouth University in collaboration with the Royal Society for the Protection of Birds has given clear indications that such species are very resilient and should adapt by switching to alternative food sources over time."
Lang Banks, director of environment group WWF Scotland, said the common fisheries policy was only one of a number of measures aimed at delivering healthier seas.
He added: "We believe that by working with the industry, government and others, it will be possible to find effective solutions that will deliver benefits both for conservation and for those who depend upon our seas for a living.
"Those solutions are likely to require changes in industry behaviour and gear use so that non-target fish and other marine life are avoided in the first instance."‬
Related Internet Links
The BBC is not responsible for the content of external sites.