New Cumnock primary pupils injured by ceiling collapse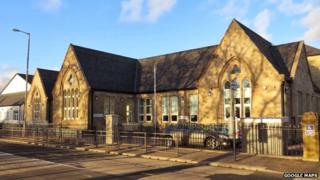 Three pupils suffered minor injuries when part of a ceiling collapsed at a primary school in East Ayrshire.
The children were in a classroom at New Cumnock Primary School when the incident happened on Monday morning.
Three pupils were checked over by the school's first aider and then taken to hospital as a precaution.
The council has closed the school for the rest of the week to carry out checks and emergency repair works.
A spokeswoman for East Ayrshire Council said: "This follows an incident in a junior classroom where some ceiling tiles and plaster fell to the floor. Closure is to allow further investigation work to continue.
"Parents were immediately informed, in order that they could take their children away for the rest of the day.
"Three children were attended by the school first aider and subsequently, as a precaution, advised to seek professional medical assurance.
"As always, the safety of our children and members of staff is paramount.
"Necessary checks will be carried out over the next few days and council officers are set to review the position on Wednesday."
The spokeswoman said the school was an old sandstone building but had been extensively refurbished in recent years.