Donald Trump plans to 'tweak' Turnberry golf resort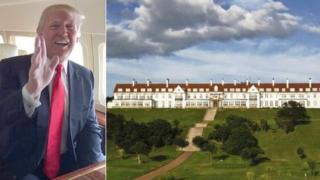 US property tycoon Donald Trump has said he plans to "tweak" the Turnberry golf course and not redesign it.
The new owner of the Ayrshire resort spoke about his plans as he arrived by private jet in Aberdeen - en route to his other Scottish course at Menie.
The American businessman said he would not be making any changes to Turnberry without the approval of golf's governing body, The Royal And Ancient.
Mr Trump purchased Turnberry from Dubai-based Leisurecorp last month.
'Lot of money'
The course will continue to be managed by Starwood Hotels & Resorts.
He said he had paid "a lot of money" for the complex but would not disclose the amount.
Mr Trump told the BBC he had "no plans" to buy any more golf courses in Scotland.
He described his Menie course, on the Aberdeenshire coast, as "his baby" and said he would never give up the fight to halt an offshore windfarm being built in sight of it.