Glasgow Clutha crash: Bar break-in teenager sentenced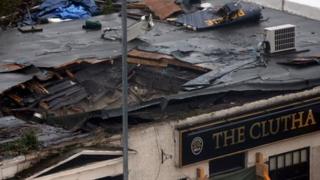 A teenage girl has been sentenced for stealing alcohol and cash from the Clutha bar in Glasgow, just weeks after 10 people died in a helicopter crash.
Billy Jo Revie, 16, pleaded guilty to breaking into the pub on 17 December.
At Glasgow Sheriff Court, she was given an 18-month community payback order.
Co-accused Jordan Parry, 16, and Darren Melrose, 18, were previously sentenced to six months detention. Charmaine Holmes 17, was given an 18-month community payback order.
Revie's case was dealt with by Sheriff Joseph Platt, who was involved in the earlier hearings where the other teenagers pleaded guilty.
'Disrespectful' actions
He told Revie: "You are aware what you did was disrespectful."
Revie was handed an 18-month community payback order with the condition that she will be supervised - the same sentence as Holmes.
The court previously heard that the group were spotted lurking outside by a man who was at the Clydeside paying his respects to a friend who was killed in the tragedy, on 29 November 2013.
He alerted the police and the teenagers were caught on camera forcing their way into the empty pub.
Officers then heard them smashing charity tins off of the pavement and saw piles of coins and bottles of alcohol.
In reply to caution and charge by officers Revie said: "I didn't touch nothing."
Defence lawyer Ann Ritchie, representing Revie, said her client was friends with Holmes and they had met Parry and Melrose and followed them to the pub.
Ms Ritchie said Revie was "scared" at the time and knew that it was "disrespectful".
The defence lawyer also said that Revie spent time on remand over Christmas and found it a "frightening experience".