Glasgow 2014: Details of phased ticket sales set out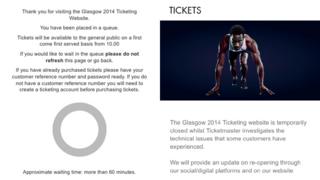 Details of the phased release of Glasgow Commonwealth Games tickets have been set out after the system descended into chaos last week.
Customers were left waiting in website queues, were uncertain if purchases had completed and some were charged for an engaged tone on the ticket hotline.
Team sports and ceremonies go on sale on Wednesday, athletics on Thursday and all remaining tickets on Friday.
Glasgow 2014 said demand would still be high but all systems had been tested.
The organisers were forced to abandon the ticketing process in the middle of last week after two days of technical problems.
About 40,000 of the 100,000 extra tickets remain to be sold over the three days of phased release.
Wednesday at 10.00 : Team Sports and Ceremonies
•Hockey
•Netball
•Rugby Sevens
•Opening and Closing Ceremonies
Thursday 10.00 : Athletics and Racquet Sports
•Athletics
•Badminton
•Squash
•Table Tennis
Friday at 10.00 : Power, Precision and Combat
•Boxing
•Gymnastics (Rhythmic)
•Judo
•Lawn Bowls
•Shooting
•Weightlifting
•Wrestling
There are no tickets available for Aquatics (Diving), Aquatics (Swimming), Cycling (Mountain Bike), Cycling (Track), Gymnastics (Artistic) and Triathlon.
After last Tuesday's decision to suspend sales the official ticketing agent Ticketmaster said it had undertaken extensive investigations and testing.
But Glasgow 2014 chief executive David Grevemberg still urged people to be patient.
Mr Grevemberg said: "Given the enthusiastic demand we've experienced so far and even with a phased approach helping to manage that demand, it's still likely the website and phonelines will be busy at peak times and customers may need to queue, so in advance we thank everyone for their patience.
"There are still thousands of terrific opportunities to join in, be part of the live ceremonies experience and see great Commonwealth athletes compete in Glasgow and Scotland across 14 different sports and 11 days.
"From Wednesday we will be in the business of ensuring remaining tickets are sold and that thousands more people can begin to look forward to experiencing the excitement of the Games."
Ticketmaster UK chairman Chris Edmonds said the website had been "checked, tested and tested again".
He added: "We are confident that all customers will have a much improved customer experience this time around.
"We are still expecting to witness very high levels of demand on the site on each day this week, so would ask all customers to be patient, if they find themselves queuing.
"Our advice to everyone would be to refrain from refreshing their screens or opening multiple browsers."
Free postage and a freephone ticketline will be operating for the ticket sales.