Scottish Airshow set to fly high again after 22-year wait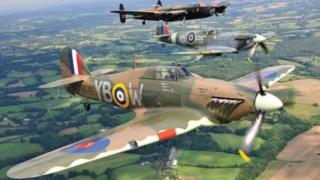 The Scottish Airshow is to take to the skies above Ayrshire again, after a 22-year absence.
The two-day event will be staged at the Low Green in Ayr, and at Prestwick airport on 6 and 7 September.
The show features World War II aircraft the Lancaster, Hurricane and Spitfire. Other highlights include the Vulcan bomber, the Blades aerobatic team, and helicopter and parachute displays.
The Saturday airshow on the Low Green will be free.
Admission will be charged to the static display at Prestwick.
In its heyday in the 1980s, the Scottish air show show attracted up to 100,000 spectators to Prestwick.
Danny Anderson of Ayrshire-based Zisys Events is one of the organisers of the new show.
He said: "The objective is to stage a significant aviation event, based in Ayrshire, which explores the theme of flight, initially through an airshow and static aircraft display."
"It is designed to bring tourism, business, economic and educational benefits to Ayrshire in particular and Scotland in general, through our programme."
The event is the first Scottish Airshow to be staged in Ayrshire since 1992. Organisers are hoping it can fill the gap left by the Leuchars Airshow which took place at the RAF base in Fife until last year.
Media co-ordinator Doug Maclean said it was hoped the Ayrshire event would become a regular attraction.
"A small team of aviation professionals has worked tirelessly to bring this event back to the Ayrshire skies in a new and exciting format," he said.
"The plan is to grow this event to make it an annual calendar highlight over the next five years.
"We want to encourage people to come to Ayrshire for the weekend and sample some of our great entertainment and hospitality."
Organisers have also promised family fun, including musical performances, when the show makes its return.
The event is being put on in partnership with Homecoming Scotland.