Mackintosh fans left devastated by blaze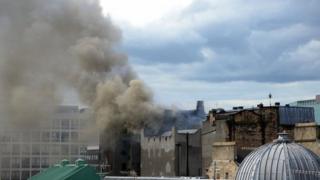 The fire which broke out at the Glasgow School of Art on Friday afternoon has left fans of Charles Rennie Mackintosh devastated.
Stuart Robertson, who is director of the Charles Rennie Mackintosh Society, watched from the street as flames billowed from the building.
He said: "I'm standing outside the building just now and there are flames still coming out of the library.
"It's absolutely heartbreaking. It's like losing a limb."
Mr Robertson added: "The school is unique. It's an art school but it's also a work of art in itself."
The school of art building designed by Mackintosh was completed in 1909 and is widely-regarded as his masterpiece.
A fire which is believed to have started in the basement ripped through the building and looks to have caused significant damage to the historic structure.
Students mingled with city centre shoppers as the operation to put out the fire went on.
Mr Robertson, whose CRM society has more than 1,500 members worldwide, said: "Lots of people have been walking round in tears, including students who will have lost all their work.
"Everyone is in a state of shock.
Terrible day
"The school means a lot to people. It is such an iconic building.
"It's even more upsetting given that so much work has been done refurbishing the building since 2005.
"Some of that work has only just been completed and now it's gone.
"It's a terrible day."
President of the Royal Instutute of British Architects, Stephen Hodder, said: "The most important work by Charles Rennie Mackintosh, an architect of international significance, Glasgow School of Art, is held in the highest regard by architects and the public alike.
"It was rightly judged to be the best building of the past 175 years, in a nationwide poll run by the Royal Institute of British Architects.
"Damage to a building of such immense significance and uniqueness is an international tragedy. It is irreplaceable.
"The RIBA joins our colleagues in Scotland in sending out a message to the students, staff of the School and all those who have been associated with this building over the decades.
"It's a message of sorrow and commiseration at this terrible, terrible news.
"It is too early to talk about what happens now, but the institute will do anything it can to help in any way."