Glasgow 2014: Games security level 'unprecedented'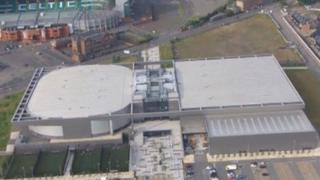 Organisers of the Commonwealth Games have promised "unprecedented" levels of security to ensure safety for athletes and spectators at this year's event.
Glasgow 2014 said a huge multi-agency operation, headed by Police Scotland, would also involve military personnel, prison officers and 17 private firms.
At a security briefing earlier, police said that planning had been meticulous.
All private firms engaged in security and stewarding have also been heavily vetted to make sure they can deliver.
Police Scotland Deputy Chief Constable Steve Allen, security director for the Games, said: "Planning for the safety and security operation has taken place over the past seven years.
'Meticulous' planning
"It's an operation unprecedented in scale in terms of the resources needed to ensure the games run safely and securely across all aspects of the event.
"Police officers, private contract security staff and safety stewards and military personnel will all be working together to keep people safe before and during the games as we see an influx of visitors to Glasgow and Scotland and local communities get ready for the Games."
DCC Allen said the Glasgow 2014 operation had taken on board lessons learned from events like the London 2012 Olympic and Paralympic Games.
He added: "We have carried out numerous exercises involving all of the partners to ensure our planning is as strong as it can be so that we can respond when needed in the most effective way. Our planning has been meticulous.
"Police Scotland and the Organising Committee are confident that Glasgow 2014 will be a success in every sense, an event that will be remembered for years to come and one that athletes, spectators and the people of Glasgow and Scotland can fully enjoy."
Earlier this month it was confirmed that about 2,400 members of the armed forces would be drafted in to help provide security.
Private contractors
The Ministry of Defence said 900 personnel would be kept on standby to help if necessary.
The Black Watch, the 3rd battalion of the Royal Regiment of Scotland, will be among the troops used.
David Leather, Glasgow 2014 chief operating officer said: "We are applying a level of scrutiny that is unprecedented in the provision of a contractor security and stewarding workforce.
"That means the progress of every contractor towards the successful delivery of their commitments is fully transparent and there is accountability at every step of the way.
"We are confident that the approach being taken regarding both security and safety stewarding will play a positive role in the delivery of a safe and secure Games we can all be proud of."
In terms of the military deployment, about 900 staff will be provided by the Army, with just under 300 each from the Royal Navy and Royal Air Force.
Brigadier Paul Harkness, Commander 51 Infantry Brigade said: "Headquarters 51st Infantry Brigade will be responsible for the Regulars and Reserves from the Royal Navy, Army and Royal Air Force in providing the Military Venue Security Force and Ceremonial support to what we know will be a fortnight of exciting international sport.
"All involved are very much looking forward to being part of the Commonwealth Games in Glasgow."
James Kelly, chief executive of the British Security Industry Association, added: "The approach taken by the Glasgow 2014 Organising Committee and Police Scotland is an excellent example of a fully integrated and carefully considered approach to event security, which has taken into account all elements of safety and security and involved key stakeholders at each stage of the decision-making process."