Lawyers say Clutha compensation offers 'inadequate'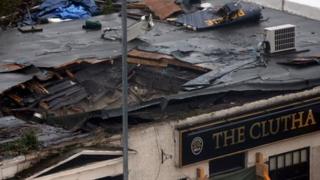 Lawyers acting for families who lost loved ones in the Clutha helicopter crash have described initial offers of compensation as "inadequate".
Legal firm Irwin Mitchell said it had rejected offers over fatal cases from helicopter operator, Bond Aviation.
Bond said it had informed Irwin Mitchell in April of offers to some clients and had yet to receive a reply.
Ten people died when the Police Scotland helicopter crashed into the Glasgow pub on 29 November last year.
An investigation is still probing the cause of a double engine failure.
Elaine Russell, from Irwin Mitchell's Glasgow office, said: "While no amount of money will ever undo the tragedy, we believe the offers made by Bond's legal representation to the families of those who lost loved ones in the tragedy are inadequate and do not take account of the circumstances of this terrible tragedy
"We have further discussions planned with Bond's representatives to review the situation regarding the survivors and are determined to ensure that all of those we represent will get access to the support many of them continue to need months on from the crash.
"All of those we act for have had their lives completely changed by this incident, so it is only fair they get the justice they deserve after everything they have been through."
A spokesman for Bond Aviation Group said that since the tragedy, the firm had worked "diligently" with all those affected "to process all claims as swiftly as possible".
'No reply'
"In April we informed Irwin Mitchell of offers in respect to a number of their clients; to date we have received no reply in respect of these offers," he said.
"Irwin Mitchell have not yet presented us with claims regarding the vast majority of clients that they have informed us they represent."
The spokesman said that following the crash, Bond Air had set up a free helpline for all affected by the tragedy.
He added: "Every single person who contacts us receives a reply within 24 hours."
Andrew Henderson, from Thompsons Solicitors, which is also handling claims, said dealings with Bond were ongoing.
"We continue to make progress with securing the best possible outcome for the victims of the Clutha tragedy and their families," he said.
"We are very experienced in dealing with this type of accident having represented many of the families involved in the Superpuma crashes in the North Sea.
"This experience is proving invaluable as we fight hard for all the Clutha victims we represent."