HMS Gannet Sea King crew winch children from stricken boat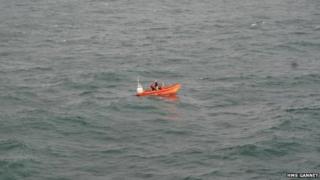 A Royal Navy helicopter has rescued two children from a stricken boat in the North Atlantic.
The Rigid Inflatable Boat (RIB) suffered engine failure on a crossing from Northern Ireland's Rathlin Island to Port Ellen on Islay on Sunday night.
A Sea King was scrambled from HMS Gannet in Prestwick at 19:25 as the vessel began to drift off course.
The children were winched to safety. Their father stayed with the boat which was towed by the Port Ellen lifeboat.
HMS Gannet's duty observer, Lieutenant Angela Lewis said: "They had drifted considerably off course - they were about 15 nautical miles north west of Rathlin, when they should have been northerly.
"Effectively they were heading further and further out into the ocean with every passing minute."
Lt Lewis said the Sea King crew used thermal imaging to pinpoint the stricken vessel.
She added: "Our aircrewman Petty Officer Alan Speed was winched down to the boat and, within 15 minutes, with the agreement of the father, had winched the two children up to the helicopter.
"The Port Ellen lifeboat was still 40 minutes away and dad stayed with the RIB so that it could be towed back to harbour, while we delivered the children back to their mum at Port Ellen at 21:00 - which really was quite an emotional reunion."
HMS Gannet's crew was pilots Lieutenants Jamie Murray and Jamie Ross, observer and aircraft commander Lieutenant Angela Lewis and winchman/aircrewman Petty Officer Alan Speed.