Joseph Townsley fails to appeal Frank Baxter killing jail term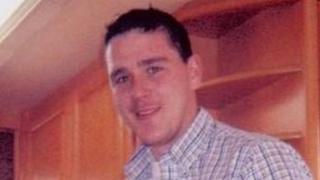 A man who drove a lorry into a North Lanarkshire garden, killing an amateur boxer, has lost an appeal against his seven-year jail term.
Joseph Townsley, 63, was convicted of the culpable homicide of Frank Baxter, 23, in Newmains, in May 2012.
He had gone looking for Mr Baxter - the son of his nephew - over a family row.
Appeal court judges rejected Townsley's claims his jail term was excessive but backdated it by three months to take account of the time spent on remand.
He originally stood trial for murder but a jury found him guilty of the lesser charge.
'Tragic' case
Townsley's QC Gordon Jackson had argued at the Court of Criminal Appeal in Edinburgh that the seven-year sentence was excessive, taking account of his age and background and the circumstances of the offence.
But Lord Drummond Young, who heard the appeal with Lord Bonomy, said they considered that the sentencing judge had taken all relevant factors into account and that she was entitled to impose the seven-year term.
Lord Drummond Young said: "The facts of the case have been described as tragic. That is undoubtedly correct."
Mr Jackson said that Townsley, who is from the travelling community, was finding prison "extremely difficult".
He said that Townsley had for many years run his own business and had suffered a great deal of personal tragedy.
"He is a decent, hard-working man within his community and the wider community," said Mr Jackson.
Townsley's trial at the High Court in Livingston heard that the incident was sparked by a family fight on 8 May 2012 at M and D's theme park, near Motherwell.
His daughter Natalie claimed to have been attacked by Mr Baxter, another man called Alex Minto and their wives Willamina Baxter and Saphire Foy.
'Peace mission'
After hearing about this, tarmac contractor Townsley travelled to the home of Mr Baxter's parents in Crindledyke Crescent, Newmains, in his lorry.
The court heard that he was followed there by other family members.
Townsley claimed he had gone there on a "peace mission".
He told the court that as he drove towards the Baxter family's house, Mr Baxter and Mr Minto ran towards him and threw missiles at his truck.
He said he ducked down to avoid being injured and lost control of the truck which smashed through the garden gates into the building.
The jury heard from a police crash examiner, however, who said that the lorry appeared to have been under control as there were no signs of braking or swerving.
When the half tonne Ford Iveco truck crashed through the gates of the house Mr Baxter is thought to have fallen backwards and hit his head on a wall.
He was taken to Wishaw General Hospital but died less than an hour later after his brain swelled due to a skull fracture.