Chef guilty of raping 14-year-old girl in Dunoon, Argyll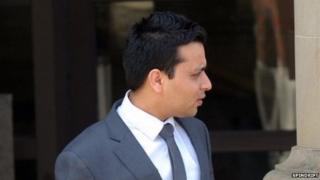 A man has been convicted of raping a 14-year-old girl in Dunoon and his friend has been found guilty of having underage sex with her friend.
Prakash Giri, 29, and Arjun Kharel, 28, both from Nepal, worked as chefs at a local hotel and encountered the girls, who were drunk, on 28 June 2012.
Giri denied rape but his DNA was found on the girl's underwear. Kharel claimed he believed the other girl was 18.
Sentence on both men was deferred at the High Court in Glasgow.
Temporary judge Sean Murphy QC remanded Giri in custody, but allowed Kharel bail.
Both men, who were in the UK legally and working at a hotel in Dunoon, were placed on the sex offenders register.
No consent
The trial heard that both men encountered the 14-year-old girls as they walked along the beach at Alexandra Parade and took advantage of them.
Both girls had been drinking vodka and were very drunk.
Prosecutor Richard Goddard told the jury: "Mr Giri didn't care that this was a 14-year-old girl.
"He just didn't care that she was in no condition to consent to intercourse with him, due to the severely intoxicated state she was in.
"Mr Kharel just didn't care that the girl he had sex with was only 14. He knew that because she told him."
In evidence the rape victim said: "I was staggering everywhere. I couldn't really walk, couldn't really see and can't really remember much.
"I kept blacking out. I was too drunk."
She told the court that she never consented to any sexual activity.
'Looked unconscious'
The girl told of falling on the steps down to the beach and added the next thing she recalled was lying on her back with Giri on top on her and her friend trying to pull him off her.
Her friend told the High Court in Glasgow: "I saw him on top of my friend and it looked like they were having sex. She didn't look right ... she was lying on her back ... to me she looked unconscious."
A 17-year-old passer-by in a car was so concerned about the state of the two girls, who were naked from the waist down after the sexual assaults, that he phoned the police.
When police arrived they found the rape victim laying on the ground apparently unconscious.
During his trial Kharel admitted having sex with the rape victim's 14-year-old friend, but claimed he didn't realise how young she was.
However the girl said in evidence that they had a conversation where they asked each other their name and age.
But Kharel told police who interviewed him that she had told him she was 18.