Andrew McKinlay stayed in Glasgow flat after murdering Josephine Steele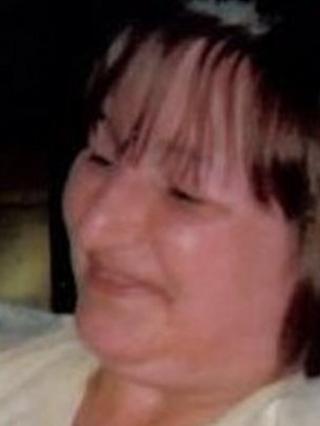 A man who stabbed his partner to death then stayed in the house for five days with her decomposing body is facing life imprisonment.
Andrew McKinlay admitted murdering Josephine Steel, 45, at a flat in Glasgow in October last year.
Ms Steele's body was found weeks after she was last seen. The court heard McKinlay bought air freshener and bleach in the days after her death.
Sentence on the 39-year-old was deferred until next month.
The High Court in Glasgow heard McKinlay stabbed Ms Steele on 9 or 10 October last year. The fatal wound severed the jugular vein and carotid artery.
He then stayed in flat in Dobbies Loan for five days.
On the last day he went to a nearby shop to inquire about the winning lottery numbers. He also bought an Airwick air freshener and a bottle of bleach.
Advocate depute Tim Niven-Smith, prosecuting, said that although McKinlay moved out to a nearby flat and stayed with a friend, it was not until 30 October that Ms Steele was reported missing when she failed to attend a medical appointment.
Police were contacted and when they gained access to the flat they found her body on the bathroom floor.
'Brutal murder'
The court heard that on Saturday 12 October the victim's mother Margaret Steele called her daughter's mobile phone wanting to speak to her. The phone was answered by McKinlay who fobbed her off.
Mrs Steele phoned again on two days later and asked to speak to her daughter. McKinlay told her Ms Steele had a viral infection and was "right no well."
When Mrs Steele insisted she wanted to speak to her daughter McKinlay then told her: "No, she's sleeping."
Mr Niven-Smith said: "Investigations conducted by the police suggest that during the period from October 9 to 12/13 the accused had continued to stay at the flat. This was despite the fact that Josephine Steele's decomposing corpse was lying in the bathroom."
When asked by friends where Ms Steele was McKinlay told them they had had a row and she had left and gone to Birmingham.
When he was questioned by police he initially refused to say anything, but later admitted his guilt.
Defence counsel Thomas Ross said: "Mr McKinlay accepts that a sentence of life imprisonment is both inevitable and well deserved."
Judge Kenneth Maciver QC described the offence as "a serious and brutal murder."
He deferred sentence on McKinlay until the High Court in Edinburgh next month when he will impose a life sentence on him and determine how long he should serve behind bars before being eligible for parole.