Glasgow 2014: Games inspire workplace workouts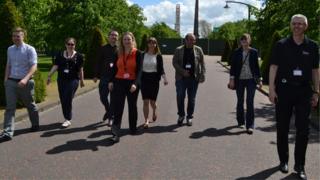 Lawyers in leg warmers, health workers doing circuits in the hospital car park and supermarket staff having a go at javelin throwing - it's not just the elite athletes gearing up for Glasgow 2014.
Fit in 14 is a Scottish government backed scheme, run in partnership with NHS Scotland, aimed at encouraging workplaces to help their staff get more active.
It's a sunny afternoon in Glasgow's Merchant City and outside the offices of the Scottish Mental Health Association (SAMH) Maurice Donohue is rallying his colleagues for some lunchtime exercise.
"Our route today is a 2,014m walk, starting off here in Brunswick Street, down to Argyle Street, past the Trongate and ending up at Glasgow Green," he says.
A keen runner, he's set himself a gruelling personal challenge of doing a marathon every week of the year to mark the Commonwealth Games coming to the city where he works. But he knows in order to get others active he must start with small steps.
"We've come up with the idea of Walking Wednesday," he says.
"It's accessible for most people to do. We do 2,014m - that's a wee bit quirky but fits in with the lunchtime scenario - it takes 20 minutes and 14 seconds it takes to do as well.
"It creates a wee bit of fun within the organisation and it means people can come together from various departments and go out for a walk at lunchtime to relieve stress."
And Maurice's colleagues have embraced the challenge.
"It's a nice opportunity to get out the office," says communications assistant Rebecca Sibbett. "We all too often sit having lunch at our desk so it's nice to get a proper break."
"We're also in training for a 20km staff walk and we are all counting our steps thinking 'oh I've only done this many steps today, I better do some more.'"
Also among the lunchtime walkers is Robert Nesbit, an operations manager at the charity: "I've got my pedometer on. It's a really good way to get your thinking about walking. You feel like you've achieved something when you add up your steps."
A sense of achievement is one of the benefits those behind Fit in 14 are keen to promote.
More than 300 workplaces including councils, health boards, colleges, charities, Police Scotland, the Scottish Fire Service, the Scottish Prison Service and big firms such as Asda and Shell have signed up to the scheme.
Whether it's taking the stairs instead of the lift, some "chairobics" at the desk, or swapping that lunchtime visit to the canteen for a walk around the block, employers have been coming up with ways to get workers more active.
At NHS Tayside staff have been gathering in the car park at Ninewells Hospital for Nordic walking taster sessions.
"You use lightweight poles and you kind of propel yourself along so you are walking tall, walking fast, almost skipping along," says Gaynyr Dickson, one of those who have tried it out.
"It's really good to have something you can do straight after work - you don't have to go home and come back," she adds.
" I think if we can offer staff something on the premises, that they can do with colleagues that's really great. We've got all these different activities and people can just have a go and try them."
And while there's a huge focus on fun with Fit in 14 - with lawyers at Harper MacLeod taking to the streets for lunchtime workouts and Glasgow Taxi drivers doing dance workshops - there is a serious side to it too.
"A study in the Lancet medical journey showed that physical inactivity worldwide has been labelled as "pandemic" and that regular exercise is just as good for you as stopping smoking, " says Dr Andrew Murray, an Edinburgh GP, ultra marathon runner and adviser to the Scottish government on physical activity.
"The benefits of a more active workforce include lower level of staff illness, quicker recovery times, a reduction in stress levels, a happier working environment and an increased satisfaction at work, and these are based on massive, massive studies."
So with the Commonwealth Games acting as the starting gun for programmes like Fit in 14 the real hope is that these benefits will continue to be felt long after the athletes have left their village in the east end of Glasgow behind.
Commonwealth and Sports Secretary, Shona Robison says its about a cultural shift.
"We want to help workplaces build on Fit in 14 and keep doing what they are doing after the Games so that it becomes just the way their workplace works and is organised - so that physical activity becomes part of the culture of that workplace and they are encouraging employees to be fit, healthy and happy."
Back in Glasgow city centre SAMH staff are returning to their desk after their lunchtime exercise. They insist their efforts will continue beyond the Games.
Maurice Donohue vows he'll ensure they do. "Remember out motto," he tells his colleagues. "Keep walking."