Stockholm bomb funder Nasserdine Menni to be freed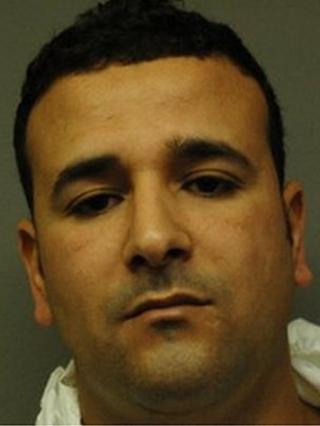 A Glasgow-based asylum seeker who was jailed for helping fund a terror attack in Sweden is likely to be deported after having his jail term reduced.
Algerian Nasserdine Menni, 39, was jailed for seven years after being found guilty of supplying money.
Iraqi-born Swedish citizen Taimour Abdulwahab blew himself up in Stockholm in December 2010. Two people were hurt.
Appeal judges have now cut Menni's jail term to three years meaning he will be freed shortly and likely deported.
Menni's legal team challenged the jail-term at the Court of Appeal hearing in Glasgow.
Lord Gill - the Lord Justice General - sitting with Lords Menzies and Brodie reduced the sentence to three years and back-dated it to March 2011, when Menni was taken into custody.
It meant Menni had effectively served his sentence. But, it is thought Menni - who arrived at court from Low Moss Prison - will not be freed while he awaits being deported from the UK.
Interpreter confusion
While leaving the dock, Menni appeared to react angrily and shout at the appeal judges.
It later emerged this came about after a mix-up with his interpreter lead to him thinking three years was being added to his jail-term rather than it being cut.
Menni was convicted following an 11-week trial at the High Court in Glasgow in 2012.
The illegal immigrant was acquitted of a charge of conspiring with Abdulwahab to further terrorism on a not proven verdict.
He was found guilty of transferring £6,725 to bank accounts knowing or with reasonable cause to suspect that the money would or may be used for terrorist purposes.
Lawyers acting for Menni later challenged his conviction attacking the sufficiency of evidence on the funding offence and the trial judge's directions to jurors.
This was rejected last year by judges at the Court of Criminal in Edinburgh who said they were satisfied that it was open to the jury to "draw the inference that the appellant knew or had reasonable cause to suspect that the payments that were admittedly made were or might be used for the purposes of terrorism".
Abdulwahab, who was killed by an improvised explosive device in the Swedish capital in December 2010, had bought material to make pressure cooker bombs.
He died after one of the devices he was carrying detonated in a pedestrian precinct.
Two further bombs were recovered, one in a rucksack near his body and another in a car parked a few blocks away.
He had sent an email attempting to justify his actions because of cartoons in the Swedish media, one of which portrayed the prophet Mohammed as a dog, and because of the country's deployment of troops in Afghanistan.
Menni, who had been living and working in Luton under a false identity, was a friend of the terrorist.
He was subsequently sent to live in Glasgow after making a claim for asylum under another false name.
In 2009 and 2010 he made a series of cash deposits at a bank in Blythswood Square to an account held in the name of Ab Adulwahab.
He also paid money into another account which was then given to the terrorist's widow.