Glasgow 2014: BBC launches Commonwealth Voices radio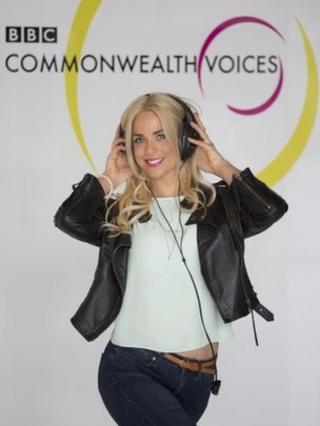 The BBC is launching a four-week online radio station to celebrate the 2014 Commonwealth Games in Glasgow.
BBC Commonwealth Voices will be based at the Forge Shopping Centre in the city's Parkhead area.
It will offer local people a chance to gain skills in research, broadcast and social media.
Hardeep Singh Kohli will be the voice of the station. Cat Cubie, Colin Kelly and Ian Hamilton will present between 10:00 and 16:00 from 16 July.
Morning presenter Cat Cubie said: "Summer 2014 is going to be amazing in Scotland. I'm so excited to be part of BBC Commonwealth Voices and to be hearing from the people of Glasgow as their city comes to life."
'Real opportunity'
The station, which is in collaboration with the Commonwealth Broadcasting Association, will share content with public service broadcasters from around the Commonwealth.
It will also be re-broadcast overnight on BBC Radio Scotland Digital and Medium Wave.
Editor of BBC Commonwealth Voices Colin Paterson said: "This is a real opportunity for local people to get their teeth into the broadcasting industry, to develop skills, but more importantly to have fun and really feel part of the cultural activity in Glasgow."
The presenters on the three live programmes, will be partnered with someone from the local community looking to gain broadcasting skills.
The programmes will have a mix of music and speech, with music having emphasis on Scottish artists, but also on music from around the Commonwealth.
Glasgow Kelvin College will be providing 10 trainees for the station with a further five coming from Glasgow-based BBC Children In Need projects.