Lynda Spence killers Colin Coates and Philip Wade launch appeals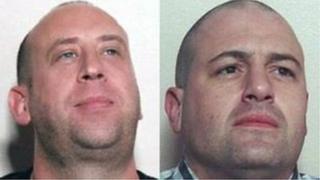 Two men jailed for life for abducting, torturing and murdering Lynda Spence have launched an appeal against their convictions and sentences.
Colin Coates and Philip Wade, both 43, were jailed for a minimum of 33 years and 30 years respectively following an 11-week trial in 2013.
Their appeals focus on use of alleged inadmissible evidence and late disclosure of Crown evidence.
Ms Spence, 27, was last seen in Glasgow in 2011. Her body has never been found.
Coates and Wade's trial at the High Court in Glasgow heard that they forced Ms Spence into a car on Broomhill Path, Glasgow, in April 2011 before she was driven to a flat in West Kilbride in Ayrshire.
She was taped to a chair and subjected to violence during which she was burned with an iron, struck with a golf club and had her thumb cut off.
She was then murdered and her body disposed of.
Trial 'flawed'
During a hearing at the Appeal Court in Glasgow, QCs for the pair argued that their trial was flawed on two counts and asked for their convictions and sentences to be quashed.
Defence QCs Gary Allan and Gordon Jackson argued that the sentences were excessive and, in written submissions, compared the tariffs handed out to Coats and Wade with that of Lockerbie bomber Abdelbaset Al-Megrahi, who was convicted of killing 270 people.
Mr Allan said: "Al-Megrahi is some sort of benchmark against which others should be judged. This case involving Mr Coats and Mr Wade was a single murder. The punishment part in my opinion is too long."
The appeal was heard by Lord President Lord Gill and judges Lord Menzies and Lord Turnbull.
Defence QC Gary Allan argued that evidence from witness Lee Winyard, 42, that Wade had confessed he had murdered an English man was inadmissible.
Mr Allan told the three-judge bench: "The jury would require to be involved in an exercise of editing. In order for that evidence to be relevant to the murder of Lynda Spence, they would require to take everything out of the confession except the words 'I killed him' and then change him to her.
"The jury were invited to change the identification of an English male to Lynda Spence - a Scottish female."
Mr Allan went on: "It did not cross my mind that the Crown would put forward this evidence."
'Prejudicial evidence'
He told the court that he had tried to challenge this evidence being put before the jury, but this was refused by the trial judge, Lord Pentland.
Mr Allan said that evidence put before the jury that Wade had confessed to another murder was "likely to be prejudicial".
Gordon Jackson QC, representing Coats, said: "What happened was that there was clear information about an admission of a murder that was not on the indictment.
"Mr Allan looked at that and said that the Crown could not lead that. It was a perfectly reasonable position.
"It's not fanciful to suggest the jury understood when he said he killed a man in Liverpool he meant he killed a woman in Scotland."
Both defence QCs also argued that the fact they were not told Lynda Spence was a police informer until weeks before the case also was a ground for appeal.
They said the Crown had known this for a year before they disclosed the information.
'Disclosure point'
Solicitor General Lesley Thomson, who prosecuted the case, said: "The Crown position before the jury was that clearly the murder of this man was a crime that had not occurred.
"The jury was told by me in my closing speech that it was relevant in showing the accused went to that area and wanted a boat. I referred to it as fictitious story."
She added: "If anyone had asked the Crown, they would have been told this was important evidence and was going to be led. This was clearly admissible evidence in the context."
Referring to the disclosure that Ms Spence was a police informer, Ms Thomson added: "This was an extremely finely-balanced disclosure point.
"The Crown position was that there were a number of people who had a grudge against Lynda Spence and who would wish to do harm to her.
"However, the only evidence of anyone involved in actual harm and the murder of Miss Spence lay at the door of the men in the dock."
The Solicitor General told the three judges that there was significant other evidence against the pair and added: "The trial judge described the evidence as substantial and overwhelming."
The three appeal judges will give their decision in writing at a later date.