Lifelong restriction order for rapist Thomas Montguire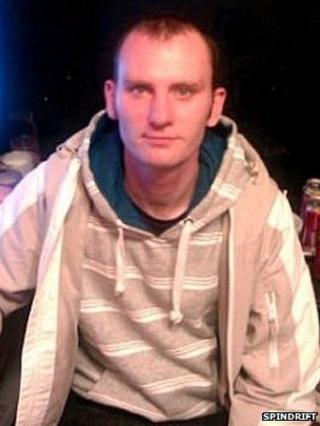 A man who battered and raped three women and continued to threaten them while in prison has been given a lifelong restriction order.
Thomas Montguire was convicted of abusing the women, who were his partners, between 2004 and 2013.
The High Court in Glasgow heard that the author of a risk assessment report was unable to recommend any treatment.
Montguire, 31, was told he must serve a minimum of 10 years before being eligible for parole.
Temporary judge Bill Dunlop QC told Montguire: "You were convicted of a horrific catalogue of violence and sexual abuse against a number of women.
"A lifelong restriction is essential to reflect the gravity of your crimes. The 10 years is not an indication that you will get out after that period of time. It is likely you will remain in prison for a very long time indeed."
The court heard that Montguire started abusing the first woman soon after they started dating in early 2004.
The woman, now 31, told the jury how life quickly became "unbearable" and that she ended up being his "punchbag".
Threats and beatings
Montguire also slashed her with a Stanley knife, attacked her with a screwdriver and repeatedly kicked her when it was thought she might be pregnant.
The woman - who claimed Montguire tried to force her into prostitution - said she was raped as she feared not having sex with him would result in further beatings.
Montguire also abused another woman whom he dated for a number of months in 2006.
She said he was initially "affectionate and loving" but soon made her a prisoner in their east end flat.
The court heard he accused her of having affairs and "violently forced" her to have sex with him about three times a week.
The woman, now aged 42, recalled being threatened with a knife and said she would often hide her injuries following Montguire's attacks.
The third woman, now aged 36, told how she was battered every couple of days during their three-year relationship, after starting to see Montguire in 2007.
The woman said she was raped as Montguire had such a "control" over her she was "scared" not to.
He also once held a samurai sword to her throat and later threatened to shoot her if she walked out.
Montguire began dating his fourth victim, Lynn Murray, in January 2011.
Prison threats
She began to suffer the same sort of abuse and told how, after becoming pregnant, Montguire's reaction was to threaten to put her in a body bag.
After their child was born and amid escalating violence, Ms Murray walked out and went to police, sparking an investigation into Montguire's abuse.
Officers traced the other women who helped bring him to justice.
The court also heard that during phone calls to family in February, while on remand in Barlinnie Prison, Montguire tried to have the woman intimidated into silence.
During one call he said: "Tell my brothers to put them under immense strain, right...right, bricks, the lot. You know what I'm talking about. Fire everything."
In another, said: "See these scumbags...they need stuff done to them. I know youse will do stuff to them."
Montguire was found guilty of raping and abusing the first woman between March and July 2004.
The second was similarly attacked between March and December 2006 while the third was abused between March 2007 and July 2010.
Lynn Murray was assaulted on various occasions from January 2011 to September last year.