Bishop Joseph Toal installed as new Bishop of Motherwell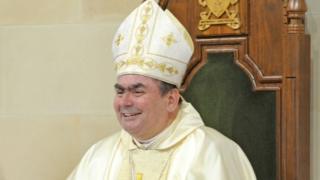 Bishop Joseph Toal has been installed as the new Bishop of Motherwell.
He was installed during a special service at the Cathedral of Our Lady Of Good Aid in Motherwell on Monday.
In April, Pope Francis confirmed that Bishop Toal would leave his former role as Bishop for Argyll and the Isles to lead Scotland's second largest diocese.
Bishop Toal had been administrator of the diocese, which had been vacant for a year, since Pope Francis accepted the resignation of Bishop Joseph Devine.