Horse sculptures trail aims to boost Hamilton visitors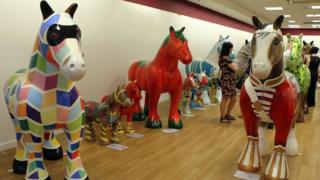 A tourist trail of giant Clydesdale horse sculptures has been set out around Hamilton in a bid to boost visitors to the South Lanarkshire town.
As part of the 10-week Ready Steady Gallop event, 25 life-sized horses, designed and painted by local artists, have been placed at prominent places.
The art trial, which can be followed using a downloadable app, includes 30 foals painted by local schools.
The sculptures will be auctioned off later to support Kilbryde Hospice.
Ready Steady Gallop has been organised by Hamilton Business Improvement District (BID) and Wild in Art, a firm which produces "mass participation art events".
Many of the horses have been sponsored by local and national businesses.
Daniel Grime, Sainsbury's Hamilton acting store manager said: "I heard about other Wild in Art projects that have taken place across the UK, so when I heard it was coming to Hamilton I thought it would do something different for the store and we absolutely had to be involved.
"The interactive element of the sculptures is great and will give local and visiting children something fun to take part in over summer, plus raise money for a local charity close to our hearts."
The Clydesdale was chosen as the theme for the event due to Hamilton's proximity to the Clydesdale Valley.
Organisers want to celebrate the role of the animals in the livelihoods of people who worked the land throughout Lanarkshire.