Plans for a new whisky distillery on the Clyde are approved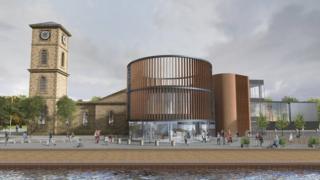 Plans for a new whisky distillery and visitor centre on the banks of the River Clyde in Glasgow have been given the go-ahead.
The £10m project will create 300 jobs during the construction phase.
Plans include revamping the pump house building, which sits between the Riverside Museum and the Hydro Arena.
It will house a museum and visitor centre while new buildings will contain a cafe, whisky tasting bar and the single malt Scotch whisky distillery.
A planning application submitted last year for the site has now been approved by Glasgow City Council.
Work on the Glasgow Distillery is scheduled to get under way later this year and be completed by autumn 2015.
The project has been developed by a small group of industry experts led by Tim Morrison, owner of the AD Rattray Scotch Whisky Company.
He said: "The city was once home to many whisky distilleries and we think the Glasgow Distillery will put Glasgow right back on the Scotch whisky map."
The distillery is expected to employ 25 people once it opens.