Humpback whale drowned off Mull 'after getting trapped'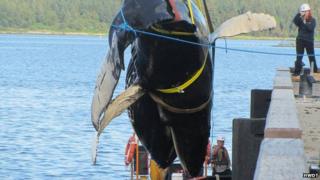 A young humpback whale found dead in the sea off Mull may have drowned after it got trapped under a fish farm pen, the results of a post-mortem suggest.
The 22ft (7m) long, eight-ton male calf was examined by experts from the Hebridean Whale and Dolphin Trust (HWDT) and Scotland's Rural College.
It was the first time a post-mortem had been done on a humpback in Scotland.
Veterinary pathologist Andrew Brownlow, of Scotland's Rural College, said: "It is obviously very unfortunate when marine animals become entangled in this way, but it is thankfully still a relatively rare occurrence.
"We are still running tests on this case to investigate if there was any underlying reason which could explain this quite unusual behaviour.
"However, it is possible this was simply a young, inquisitive, maybe hungry animal who took a wrong turning."
There have only been six recorded humpback whale strandings in Scotland since 1992 and 17 for the whole of the UK.
The whale's stomach lining suggested little solid food had been ingested in the past, so it was possible that it was still receiving milk from its mother.