Van driver jailed over Brian Webster's death in Johnstone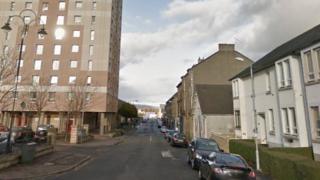 An uninsured van driver who caused the death of a 66-year-old man in Johnstone has been jailed for seven months.
David Gledhill was behind the wheel of a white Mercedes Sprinter van which struck Brian Webster in the Renfrewshire town on 12 January 2012.
Mr Webster had been crossing Dimity Street when Gledhill's van turned into the street and struck him.
The pedestrian was knocked to the ground and banged his head. He died in hospital the next day.
Paisley Sheriff Court heard that 63-year-old Gledhill, from Leeds, had been using the van for business purposes when it was only insured for social and domestic use.
He pled guilty to causing death by careless driving and to driving while uninsured.
Fiscal depute Douglas Hamilton said Gledhill had clearly "failed to keep a proper lookout or to give Mr Webster the priority he deserved while crossing the road.
"This has been heart-rending for members of (Mr Webster's) family," he said.
Momentarily blinded
Defence agent Colin Williamson described the case as very tragic and said he had been instructed to express his client's "deepest sympathy" to Mr Webster's relatives.
He said Gledhill had driven round the corner "at walking speed" but had been momentarily blinded by the low sun.
Mr Williamson said: "He was not aware of Mr Webster but suddenly saw him stagger backwards and fall to the ground.
"The impact was not significant enough to throw him to the ground but most likely caused him to be unbalanced and fall backwards, striking the back of his head on impact."
The lawyer said his client had pleaded guilty as he should have seen Mr Webster crossing the road and said he was "very remorseful."
"He was driving at low speed, carrying out a very normal manoeuvre, which tragically went very badly wrong," he added.
"This was a momentary lapse of concentration with devastating results."
Referring to the insurance issue, he said his client had wrongly assumed he would be covered when he borrowed the vehicle after his own had broken down, as he had driven it in the past but did not appreciate that cover was restricted to use within the motor trade.
Passing sentence, Sheriff McCartney said: "Nothing I do can repair the devastating blow suffered."
He said he had weighed up all of the facts and circumstances and concluded "that the seriousness of these matters is such that only imprisonment is appropriate".
Gledhill was also disqualified from driving for three years and ordered to sit and pass the extended test of competency before being allowed back on the roads.