Anti-litter logo washed on West Dunbartonshire footpaths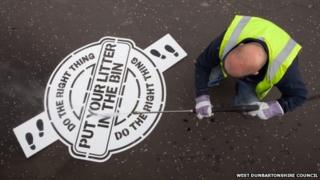 A Scottish council plans to advertise an anti-litter drive by using stencils to power-wash its message on footpaths.
West Dunbartonshire Council said it would be the first authority in Scotland to use the tactic as part of its new "Do The Right Thing" campaign.
The adverts encourage people to bin their litter and dog dirt and also point towards the nearest bin.
They will be power-washed on to footpaths, around parks, town centres and areas where litter is a problem.
'Striking' message
The council said it had installed 100 new bins for the campaign, taking the total to 1,000 across the area.
Councillor Patrick McGlinchey, convener of infrastructure and regeneration, said: "We want people to notice our campaign, and to do that you need to find new and striking ways to promote your messages.
"These street adverts are a really interesting new approach which will get people talking and challenge the minority of irresponsible residents to change their behaviour.
"The whole project will only cost the council £300 in total which is far cheaper than other forms of advertising, and should be really effective at getting to the places where residents say there are litter issues."