Glasgow 2014: Team Scotland bowls stolen in Troon recovered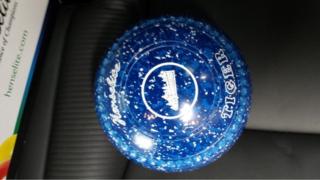 Stolen lawn bowls belonging to Commonwealth Games Team Scotland's Paul Foster have been recovered by police.
They were taken during a break-in at Troon Portland Bowling Club, where he trains, on Monday afternoon.
The three bowls taken were part of a set the four-times world champion has been playing and practising with exclusively since April.
The 41-year-old bowler, from Troon, said it was a "huge relief" that the bowls had been found.
The three bowls, which Foster has seen and confirmed are his, are now being checked by police forensics before being returned to him.
He said: "This is a huge relief for me. I've have seen the bowls, there is no doubt they are mine and at first glance they appear to be undamaged.
"I would like to thank the police, the media, the public and everyone who has helped the police in the campaign to find them in such a short space of time."
Detectives in Ayrshire are appealing for information following the theft.
The bowls taken were blue with white speckling and feature a distinct picture of Kelvin Hall and the "Henselite" logo. A black and green bag with "Henselite" written on it was also taken.
One remaining bowl from the set had been removed from the trolley bag and left behind in the club locker room.
Foster was a gold medallist in the 2006 Melbourne Commonwealth Games.