Police say death of man recovered from Clyde 'unexplained'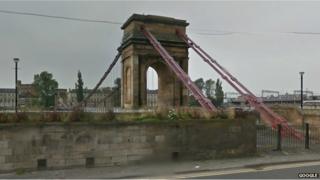 Police have said they are treating the death of a man, whose body was recovered from the Clyde, as "unexplained".
The body of Scott McGuire, 41, was taken from the river near Clyde Street in Glasgow at 08:15 on Tuesday 8 July.
Mr McGuire is thought to have been sleeping rough in the area.
Officers are seeking information about a fire nearby, although they said it was not directly connected to Mr McGuire's death.
Det Insp Martin Fergus said: "Our enquiries have revealed that Scott had been sleeping rough near to where his body was later discovered, near to Calton Place. There had been a report of a rubbish fire underneath the suspension bridge around 05:30 on 8 July 2014.
"Although at this time we do not believe that the fire is linked to Scott's death, I would like to speak to anyone who was nearby around the time of 05:30 and remembers witnessing smoke coming from near the suspension bridge."
He added: "I would like to speak to anyone who can tell us of Scott's movements between the hours of 21:30 on Monday 7 July, when we know he was at the Mission drop inn centre, on Clyde Street, and 08:15 on Tuesday, when his body was discovered."