Thousands attend Pride Glasgow parade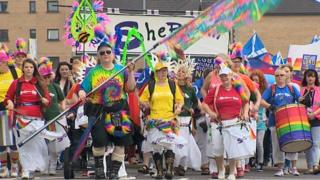 Thousands of people have taken part in the Pride Glasgow parade.
The march, now in its 18th year, started in Clyde Place before making its way through the city to the main festival site in King Street.
A street party kicked off a fortnight-long celebration of Lesbian, Gay, Bisexual and Transgender culture.
Events will run until 3 August and will coincide with the Glasgow 2014 Commonwealth Games, which start on Wednesday.
Police said about 3,500 to 4,000 people took part in the parade.
Organisers said the Pride Glasgow festival would place a particular focus on highlighting homophobia that exists in Commonwealth countries.
They have said that 42 out of 53 Commonwealth countries have criminalised homosexual activity.
Campaigners from both sides of the Scottish independence debate will also be out in force on Saturday in the hope of attracting support from people attending the parade.
LGBT Yes, which is campaigning in favour of independence ahead of September's referendum, said a "Yes" vote could transform Scotland into a "progressive beacon".
LGBT Together, part of the pro-Union Better Together campaign, countered the claim, saying the UK is the best place to be LGBT in Europe.