Nelson Mandela 'prison book' goes on show in Glasgow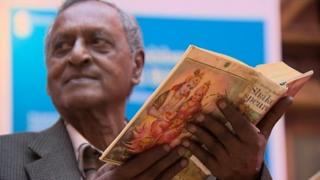 A book shared by Nelson Mandela and 33 other political prisoners at South Africa's notorious Robben Island jail is to go on show in Glasgow.
The Complete Works of Shakespeare, with a passage signed by Mandela, will be on display at the city's Mitchell Library from Saturday until 4 October.
The work has been loaned by former prisoner, Sonny Venkatrathnam.
While in jail, Mandela was awarded the Freedom of Glasgow in 1981. The former president died in December aged 95.
The loaned book is the centrepiece of a free exhibition, titled Scotland and the Commonwealth - 400 Years in the Making.
Glasgow honours
It will be on display in the library's main hall and Glasgow Libraries expects huge interest due to Mandela's strong links with the city.
Glasgow City Council renamed St George's Place after the anti-apartheid hero, and he was also honoured by Glasgow, Strathclyde and Glasgow Caledonian universities.
In 1993 Mandela visited Glasgow for a special concert celebrating his release from prison and to thank the city for its support.
The loaned book has become known at the Robben Island Bible as Mr Venkatrathnam disguised its cover with Diwali cards and told prison guards it was his bible to prevent its seizure.
He eventually passed it to 33 of his fellow inmates, asking them to sign a passage that meant a lot to them.
Mandela was inspired by Shakespeare's Julius Caesar and underlined the following section which he signed and dated December 16, 1977.
"Cowards die many times before their deaths
The valiant never taste of death but once.
Of all the wonders that I have heard,
It seems to me the most strange that men should fear,
Seeing that death, a necessary end,
Will come when it will come."
Mr Venkatrathnam told BBC Scotland: "Nelson Mandela and I were colleagues and comrades in every sense of the word.
"This book was so important to us because it was the only reading material we had on Robben Island.
"Everybody borrowed it for a week or two weeks.
"One of my comrades used to read King Lear to other prisoners who couldn't read or write."
Karen Cunningham, head of Glasgow Libraries, said: "Nelson Mandela had a great affection for Glasgow and we are extremely proud of our strong connection to such a remarkable man.
"He was arguably the greatest Commonwealth leader of all time and therefore it is fitting that we celebrate his life and achievements as we host the 2014 Commonwealth Games.
"The Robben Island Bible is of strong historical significance and we are grateful to Sonny Venkatrathnam for loaning us the book. I'm sure many visitors will come along to the Mitchell Library to see it in person."
Advance view
South African dignitaries visited the Mitchell Library on Friday for an advance view of the exhibition and to thank Glasgow Libraries for launching a book donation campaign.
Seven libraries across Glasgow are collecting books throughout July to help educate underprivileged children living in Nelson Mandela's home Province of Eastern Cape.
Meanwhile, Nelson Mandela's granddaughter thanked the people of Glasgow as she joined celebrations of the anti-apartheid icon's life.
Tukwini Mandela was the guest of honour at events held in the city to mark this year's Nelson Mandela International Day.
Hundreds turned out in Glasgow, the first city in the world to honour the former South African president with the freedom of the city in 1981.
His granddaughter attended a ribbon-tying ceremony in the Glasgow street that bears her grandfather's name, Nelson Mandela Place.
Guests at the ceremony tied ribbons in the colours of the South African flag to the railings of St George's Tron Church as the first Mandela Day since the former leader's death was marked.