Renowned Scots architect Prof Andy MacMillan dies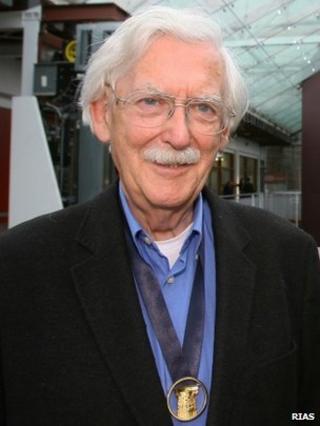 The renowned architect Prof Andy MacMillan has died suddenly aged 85.
Prof MacMillan co-designed St Peter's College seminary in Cardross - a building considered by some to be a modernist masterpiece.
He was Professor of Architecture at Glasgow University and head of the Mackintosh School of Architecture from 1973 to 1994.
He died in Inverness on Saturday during a judges' tour of buildings nominated for an architectural prize.
Prof MacMillan was chairing the judges panel for this year's Royal Incorporation of Architects in Scotland (RIAS) Andrew Doolan awards.
'Immense influence'
RIAS president Iain Connelly said: "Andy was a great architect, an educator of international renown and one of the finest human beings it has been my privilege to know.
"His influence on generations of students at the Mackintosh School of Architecture and in the many other institutions where he taught, was immense.
"Andy's contribution to Scotland was among the most significant of any architect in the post World War II era."
Mr Connelly said Prof MacMillan would be "remembered as someone who lived life to the full, who inspired all those he taught and all those who encountered him".
He described the architect as "an individual of enormous talent, tremendous enthusiasm and irrepressible fun".
Mr Connelly added: "Andy's legacy is the hugely improved built environment of Scotland wrought by his own hand and those of successive generations of his students. He will forever be missed."
Glasgow School of Art director, Prof Tom Inns, said everyone connected with GSA had been deeply saddened to hear of Prof MacMillan's death.
"Andy's association with the GSA spanned more than seven decades from student to head of the Mackintosh School of Architecture and latterly as Emeritus Professor", Prof Inns said.
"He was one of the greats of post-war British architecture and his legacy is visible not only in his buildings but in the lives and work of generations of architects whom he taught, challenged and enthused.
"He was a generous, inspirational man and everyone who met him came away better for having done so."
Prof Macmillan is survived by his wife Angela, their three daughters and son, and their three grandchildren.