McColl aims to expand workforce at stricken Ferguson Shipbuilders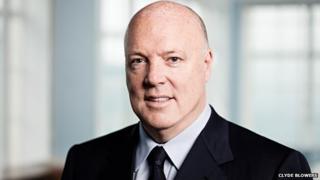 The prospective new owner of Ferguson Shipbuilders has outlined expansion plans for the Port Glasgow yard.
Administrators KPMG announced on Monday that Clyde Blowers Capital was the preferred bidder for the yard and a sale could be completed within 14 days.
The firm's founder and chairman, Jim McColl, said he hoped the workforce could grow from its pre-administration level of 77 to 120 people.
He promised to upgrade facilities and seek work in the renewables sector.
Mr McColl's firm was among three eventual bidders for the business, which went bust on 15 August with the loss of 70 jobs.
Speaking on BBC Radio Scotland's Good Morning Scotland programme, he said: "The yard obviously needs quite a bit of investment in it.
"We do plan to invest, upgrade facilities there, and then to look at further work for the yard.
"This could be perhaps another ferry, but looking at maybe doing some oil and gas work or some other fabrication work."
Speaking from Western Australia, Mr McColl stressed the importance of diversification for the future of Ferguson's.
He added: "We can help bring some further business to the yard from the oil and gas industry in particular.
"We're also involved in renewables and I think there may be some work in that area in the future as well."
Mr McColl, one of Scotland's wealthiest people with a fortune estimated to be about £1bn, said some of the recent problems at Fergusons stemmed from the lack of working capital needed for the major contracts it was attempting to complete.
Order target
He also said the yard lacked the facilities needed to make it competitive with the best shipbuilders elsewhere.
"I would expect we'll be looking to book an order fairly quickly," he said.
"The yard is very quiet now but I would expect to be able to get some work in there that would allow us - probably in the first year to 18 months - to get the employee numbers up to about 100 or 120 people."
Mr McColl's plans for the ailing shipbuilder have been welcomed by Jim Moohan, GMB Scotland senior organiser and chairman of the Confederation of Shipbuilding and Engineering Unions (CSEU).
"We are confident that Mr McColl will bring a new vision and strategy to the yard and place it in a very competitive position with the expectation that the workforce will increase to three figures," he said.
"This, of course, will have to be complemented by total support from the Scottish government and all political parties."
Mr Moohan added: "I am confident that Mr McColl will not only protect the shipbuilding maritime position, but also seek out new markets within the shipbuilding and engineering markets."
Originally formed in 1902, Ferguson Shipbuilders employed 77 staff at the time of the administration appointments. A skeleton staff has been retained to maintain the yard.