Home raid OAP murderer Patrick Docherty loses appeal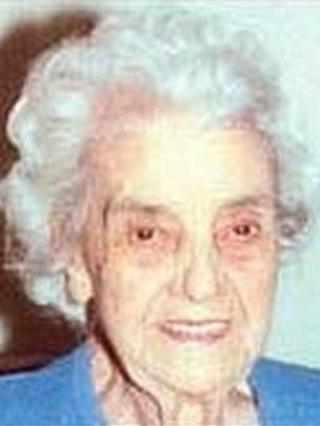 A man who murdered a 91-year-old woman during a failed robbery at her home in East Ayrshire has lost a second legal bid to overturn his conviction.
Patrick Docherty, 49, and another man, Brendan Dixon, 45, were sentenced to at least 25 years for killing Margaret Irvine in Galston, Ayrshire, in 2003.
Docherty's legal team claimed the Crown did not disclose evidence, he was interviewed without a lawyer and the judge did not properly direct the jury.
Appeal judges rejected these claims.
Docherty's appeal argued these three issues contributed to him being wrongly convicted of murder.
His case was referred to the Court of Criminal Appeal in Edinburgh after the Scottish Criminal Cases Review Commission - which looks at possible miscarriages of justice - decided that he may have been wrongfully convicted.
The commission believed the prosecution case was circumstantial and "thin" in terms of incriminating evidence against Docherty.
The first appeal ground claimed that because the Crown had failed to disclose statements that prosecution witness Charles Keers made to the police, Docherty's legal team were unable to properly defend their client.
The second appeal ground also referred to the Cadder Ruling - where the UK Supreme Court said a man's human rights had been infringed as he was interviewed by police without a solicitor present.
Jury direction
In the days running up to his arrest, Docherty was interviewed by the police but was not allowed to consult a solicitor during questioning.
The final appeal ground focussed on a claim that trial judge Lord Hardie did not properly direct the jury when he was instructing them about the law prior to their decision.
On Friday, Scotland's most senior judge, the Lord Justice General Lord Gill, Lady Smith and Lady Clark of Calton, refused Docherty's appeal to succeed.
The judges believed that there was still enough legitimate evidence available to prove Docherty's guilt.
In a judgement issued at the Court of Criminal Appeal, Lord Gill wrote: "In my opinion, the Crown case has wrongly been described by the appellant and the commission as having been thin.
"I have the impression that the commission has related the alleged thinness of the case to the fact that it was a largely circumstantial.
"In the experience of this court, circumstantial cases often have particular strength. This, I think is such a case."
Docherty Dixon broke into Mrs Irvine's home and beat her, tied her up and stuffed a duster into her mouth as a gag.
The pensioner suffocated and was found lying on her bed by a home help.
Both men had a previous appeal against their convictions rejected in 2010.