Derek Grant jailed for killing son's mugger in Greenock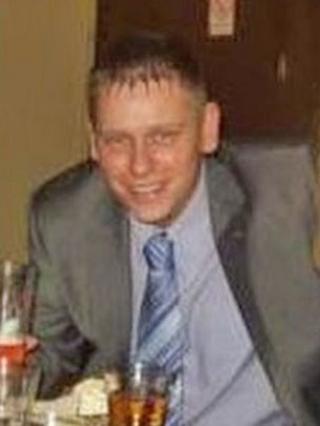 A man who admitted killing a knife-wielding robber who took his son's iPhone has been jailed for six years.
Derek Grant, 38, confronted Patrick Bradley after the 29-year-old had held up his son Jordan in Greenock on 30 August last year.
During the confrontation, Bradley stabbed Grant in the eye, after which Grant then fatally stabbed him.
Grant was originally charged with murder but pleaded guilty to the lesser charge of culpable homicide.
At the High Court in Livingston judge Lord Boyd noted that Bradley "was a man of violence" and had "10 convictions for assault" prior to his death.
Criminal record
He told Grant: "But you, of course you did not know that. What you did know was that earlier that night Patrick Bradley had robbed your son of his mobile phone at knifepoint.
"Had he been caught it seems likely given his record that he would have been prosecuted in this court, the High Court, and on conviction would have received a High Court sentence.
"As it happens you had the means to bring him to justice because the phone had been easily located by the Find My iPhone app."
The judge added: "All you needed to do was to phone the police and give them the information. However, you armed yourself with a knife and, along with your three sons, went looking for him."
The judge said Grant's lawyer had earlier described that decision as an error of judgment.
But he told the accused: "I can't accept that as a valid description. It's clear you were prepared to be met with violence - or at least the threat of violence - and went armed to meet it."
Lord Boyd acknowledged that Grant had lost an eye as a result of being stabbed and now had a lifelong disability, which had effectively ended his career as a delivery driver.
He described Grant's conviction as a "tragedy" for his family and told him the proud educational record of his sons was a credit to him.
The judge added: "I take into account you will have to live with the physical consequences of that event for the rest of your life and I have reduced the sentence accordingly.
Phone trace
"Nevertheless, the fact is you took the law into your own hands and went looking for a man you knew was armed with a knife armed with a weapon of your own."
A previous hearing at the High Court in Glasgow heard how Jordan Grant had been returning to his home in Greenock when he was confronted by Bradley, who had a significant record for violence.
He ordered the politics student to hand over his iPhone, which he did.
The McDonald's worker went home and told his father who used a mobile app to trace the stolen phone to a nearby location.
Grant then left his home with Jordan and his two younger sons, Lee, 17, and 16 year-old Jamie.
They spotted Bradley - who was not known to them - and Grant ordered he hand back the stolen phone.
Bradley instead lashed out at Grant and stabbed him in the eye before Grant then repeatedly struck out at him with a knife he had taken from home.
Bradley suffered a cardiac arrest and died following the incident. Grant was left blinded in one eye.
Grant's three sons also faced murder charges but their not guilty pleas were accepted.