Glasgow woman Aqsa Mahmood 'promoting terrorism' on Twitter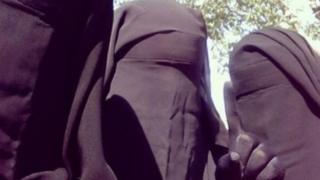 A young woman from Glasgow has travelled to Syria and has been promoting terrorism back home via her Twitter account, it is understood.
Aqsa Mahmood, 20, was reported missing by her family in November 2013.
A Twitter account under the name Umm Layth, believed to be Ms Mahmood, said: "Follow the examples of your brothers from Woolwich, Texas and Boston.
"If you cannot make it to the battlefield then bring the battlefield to yourself."
The post was made on the Twitter account in June. The account has now been deactivated.
Ms Mahmood's family have described her as a "studious and ambitious girl" and said they "cannot understand why she has travelled to Syria".
She was a pupil at Craigholme School and Shawlands Academy in Glasgow.
In a statement, issued by Police Scotland, her family said: "We had no knowledge of our daughter's plans to leave Scotland and immediately reported her as a missing person to the police.
"Aqsa is a studious and ambitious girl and we cannot understand why she has travelled to Syria.
"We are struggling to come to terms with the situation and we are working with the police."
A Police Scotland spokesman added: "A (then aged) 19-year-old female from Scotland was reported missing to Police Scotland by her family in November 2013.
"Inquiries are ongoing in relation to her whereabouts and we are supporting her family."