Fire crews tackle blaze at derelict Ayrshire school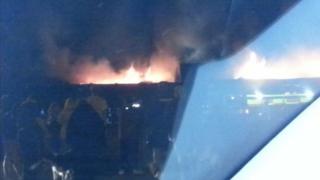 About 15 firefighters have worked through the night to control a blaze at a derelict school in North Ayrshire.
Crews arrived at the former Fencedyke Primary building, at Cheviot Head, Irvine, just before 21:20 on Tuesday.
They found a "substantial fire" burning in the building and deployed ground and aerial hoses to bring it under control.
Scottish Gas and Scottish Power staff were called to isolate supplies and North Ayrshire Council building control officers also attended.
Incident commander Scott Cunningham, from the Scottish Fire and Rescue Service, said: "Our crews arrived to find a well-developed fire within the building and immediately requested an aerial rescue pump to bolster the resources at the scene.
"This was sent from Kilmarnock and around 15 firefighters worked throughout the night to tackle what was a substantial fire burning throughout the building.
"By sectorising the incident we were able to surround the flames and tackle them from both ground level and from height, with multiple high-pressure water jets used to bring the fire under control."
Crews were still at the scene with a thermal imaging camera on Wednesday morning to ensure the fire was extinguished.
Did you take any pictures - still or moving - of this fire? Send them to the BBC Scotland news website at newsonlinescotland@bbc.co.uk
Please ensure when filming or photographing an incident that you make your safety and the safety of others a priority.
If you submit an image, you do so in accordance with the BBC's Terms and Conditions.