Ardbeg 'space whisky' back on Earth after flavour experiment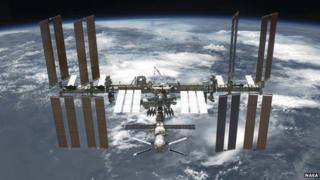 Whisky that was fired into space three years ago as part of an experiment into flavour has returned to Earth.
A vial of unmatured malt from the Ardbeg Distillery on Islay was sent to the International Space Station in a cargo spacecraft in October 2011, along with particles of charred oak.
Another vial of the same whisky was was kept at the distillery for comparison.
Scientists will now compare how the chemicals interacted and flavours developed at close-to-zero gravity.
Mickey Heads of Ardbeg Distillery described the whisky maturation experiment as "a voyage of discovery".
'Flavour compounds'
"We've just received the samples back from Kazakhstan, they landed overnight, and we'll be whizzing those off to Houston in Texas to analyse the results," he said.
"We're looking at the flavour compounds that are in the spirit, these are called terpenes.
"These are present in many foods and drinks and we'll be analysing those to see the difference between the spirit in the controlled experiment down on Earth and that which happened in the space station.
"It's really a long-term investigation into flavour and hopefully we can reveal new ways and new compounds of creating extra special flavours."
Ardbeg was invited to take part in the space experiment in late 2011 by Texas-based space research company NanoRacks.
The vial was launched by Soyuz rocket from Baikonur in Kazakhstan in late 2011.