Police trace Barlinnie jail absconder Alexander Woodside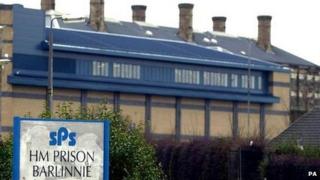 A convicted murderer who absconded from Glasgow's Barlinnie prison has been traced by police.
Alexander Woodside, 37, had disappeared on Friday while on an external work placement.
He was traced to the Kirkcaldy area in the early hours of Sunday and taken back to Barlinnie.
Woodside was sentenced to life imprisonment in 1998 after being convicted of the murder of 16-year-old John Hampson in a Glasgow street.