Airdrie Tesco Express worker attacked in armed robbery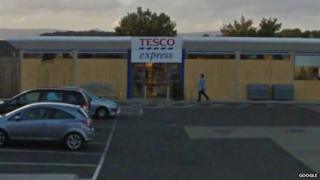 A shop worker has been injured after being attacked by a masked man during an armed robbery at a Tesco Express store in Airdrie, North Lanarkshire.
The shop, in the town's High Street, was targeted by two men wearing ski masks at about 23:20 on Sunday.
They threatened three male members of staff and demanded money before one of the suspects, who had a firearm, attacked the worker.
The masked men escaped with a three-figure sum of cash.
Police said were seen getting into a grey/silver car and heading towards the town centre, known locally as the Top Cross.
The injured shop worker was taken to Monklands General Hospital where he was treated for a facial injury before being allowed home.
Suspect descriptions
The firearm was not discharged during the robbery and the other two staff members were not injured but left extremely distressed.
The first suspect is described as about 6ft 1in tall, of stocky build and was wearing dark clothing and a balaclava.
The second suspect is described as about 5ft 9in tall, of thin build and was wearing dark clothing and a balaclava.
Det Sgt Kenny Dalrymple said: "This was a very traumatic experience for the three men who were working within the shop.
"I'd like to speak to anyone who may have seen the suspects hanging around outside the shop or the vehicle parked in the car park prior to the robbery taking place or anyone who may have visited the shop around 23:30 hours on Sunday night.
"I believe that there were some people who attended at the shop but found it closed and these people could hold vital information and I urge them to contact police immediately."