Tagged criminal Richard Pollock jailed for raping girl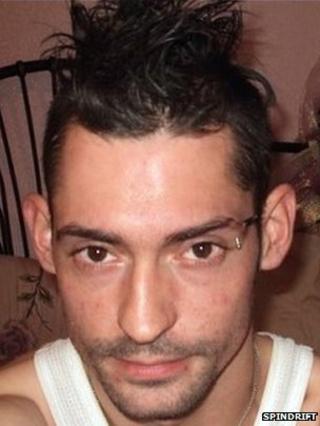 A criminal on early release from prison has been jailed for eight years for raping a 12-year-old girl while he was wearing an electronic tag.
Richard Pollock, 32, admitted attacking the girl at his flat near Hamilton Racecourse on 14 July.
The High Court in Glasgow heard how his victim managed to flee and raise the alarm at a nearby car showroom.
Pollock raped the girl after being freed weeks earlier from jail for a post office robbery in Helensburgh.
Jailing Pollock, judge Lord Boyd said the prison term for the rape would have been 12 years, but for his guilty plea.
'Atrocious' crime
The judge said the attack was of an "atrocious nature" adding: "It is difficult to find words for the revulsion most right-minded people would think."
The court heard that the victim had been visiting Pollock's flat in The Furlongs, Hamilton, when she was raped.
Pollock was on a home detention curfew at the time having been released early from jail in May.
He had been jailed for just over three years in March 2013 after a hold-up at a post office in Helensburgh.
The court heard the girl had fallen asleep in Pollock's flat, but awoke to find him on top of her.
She immediately lashed out at him and demanded he get off but Pollock then slapped his hand over the girl's mouth and told her that she would "enjoy it".
He also threatened that if she "made a sound" he would "slit the throat" of a woman the girl knew.
He then raped the terrified schoolgirl before forcing her to stay in the flat when she tried to escape.
The victim eventually managed to get out after punching Pollock in the face. She fled to a nearby Bentley motor showroom and told a worker there that she had been raped.
Police were alerted before Pollock was later detained.
The court heard Pollock had previously spent five years working in the Highlands in agriculture after going on the run having initially appeared in court for the post office hold-up in 2008.