Degree course helping secure Gaiety Theatre's future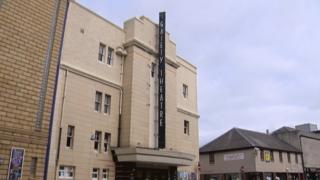 The Gaiety Theatre in Ayr has gained a new lease of life since it reopened - and now university students are helping ensure it stays open.
A new degree course in the technical aspects of theatre is being taught there in a tie-up with the University of the West of Scotland.
It means the students are playing an important role in commercial productions while they learn.
The Gaiety closed in 2009 but reopened in 2012 after a campaign to save it.
The theatre and the university say this is the only BA technical theatre degree of its kind in Scotland.
'Skilled staff'
The first group of students began their studies earlier in September.
The aim of the course is to offer thorough vocational training for those looking to work in stage management and theatre production.
Students gain a knowledge of the industry and will be prepared for a variety of employment opportunities from small-scale theatres to large multi-media events, venues and festivals.
The course is designed for those who already have a range of appropriate skills or experience, such as HND qualifications.
Programme leader Jane Robertson said: "Scotland's arts sector has been booming in recent years and there is a greater demand now than ever for skilled staff to work in all aspects of production.
"One just has to cast a glance towards Edinburgh this month to see how much interest there is in modern theatre."
She added: "This new degree will equip students with the necessary tools, experience, vision and determination to gain employment in the theatre industry - and these skills are transferrable to a range of other modern production mediums."
The unique partnership with the theatre will mean students will be able to work on live shows during the course, which will also be delivered at the University's Ayr campus.
All productions are professionally run by university staff, the Gaiety Theatre team or visiting professionals, with students also having the opportunity to make important contacts within the industry.
Technical manager Douglas Paisley - a graduate of the Royal Scottish Academy of Music and Drama - also teaches students on the new course.
He contrasts the practical experience the students are getting on professional productions at the theatre with the student productions staged specially on other similar courses.
The Gaiety reopened just before Christmas in 2012.
It had closed three years earlier after it lost most of its funding from South Ayrshire Council.
Its current business model means it has a small number of staff whose efforts are supplemented by around 150 volunteers from the local community.
As the course goes on, the students are likely to make a growing contribution towards the production - adding to the work of the paid staff.