Scots scientists get £1.1m grant for new vision-loss detector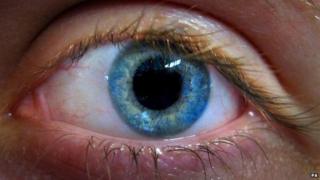 Scientists in Scotland have been given funding to develop new laser technology aimed at detecting early vision loss.
The £1.1m grant from Innovate UK will fund work by Strathclyde and Kent Universities, NHS Greater Glasgow and Clyde and Dunfermline-based firm Optos.
Clinical trials of the new technology are due to be completed by early 2017.
If they are successful, a further £9m will be invested to develop a fully-licensed new medical device by the end of 2018.
The goal is to detect early vision loss in people with long-term conditions such as glaucoma, age-related macular degeneration and diabetic retinopathy.
'Innovative research'
NHS Greater Glasgow and Clyde's team will be drawn from the Medical Devices Unit - a specialist medical technology centre within the health board - and the Glasgow Centre for Ophthalmic Research.
Dr Graeme Williams, one of the consultant ophthalmologists working with the Glasgow Centre, said: "I am really excited about this innovative research which could provide early detection of sight-threatening disease, allowing for more effective management of the conditions."
Derek Swan, senior director of research at Optos, added: "We recognise the value of innovative imaging technology in the detection and management of eye disease.
"This initiative aims to introduce significant enhancements in imaging technology, offering the prospect of detecting those diseases at a much earlier stage.
"We also welcome this collaborative approach to research, enhancing the efficiency and delivery of clinically demonstrated, cutting edge technologies to the NHS."