Herish Rostam jailed for raping woman in Glasgow lane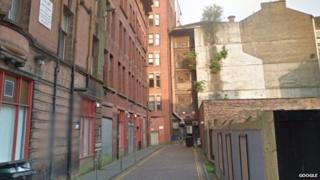 A man has been jailed for six years for raping a woman in a lane in Glasgow.
Herish Rostam, 26, attacked the 29-year-old woman in Robertson Lane, near Argyle Street, on 14 December 2012.
The victim, who had been working as a prostitute, agreed to have sex with Rostam for £25, but instead he attacked her once they went in to the lane.
Failed asylum seeker Rostam, who is an Iranian Kurd, was convicted of raping the woman at an earlier hearing at the High Court in Glasgow.
Jailing Rostam, temporary judge Bill Dunlop QC told him: "You humiliated, degraded and brutalised her and for that you must pay the price."
"This was a vulnerable woman who was driven to prostitution."
He also placed Rostam on the sex offenders' register.
Christmas presents
The court heard that the woman had turned to prostitution to buy Christmas presents for her children.
She had agreed to have sex with Rostam for £25 but was attacked by him when they went in to the lane.
Giving evidence, the victim told the court: "I tried to move, but he was too strong. It went from something we had agreed to something he just wanted to do.
"He forced himself on me. I asked him to stop. He carried on doing it."
Rostam, who gave evidence during his trial through an interpreter, denied raping the woman.
When he appeared for sentencing, solicitor advocate Edward Gilroy, defending, said: "Mr Rostam continues to deny responsibility, but he accepts he has been convicted of a serious offence."
The court also heard of Rostam's past from prosecutor Jonathan Brodie QC.
He said: "Mr Rostam is a failed asylum seeker who entered the UK in 2007. He has repeatedly asked to be allowed to stay in the UK and all these applications have been refused.
"He is currently awaiting permission to appeal again."