U-turn as Isle of Coll's free water tap is turned back on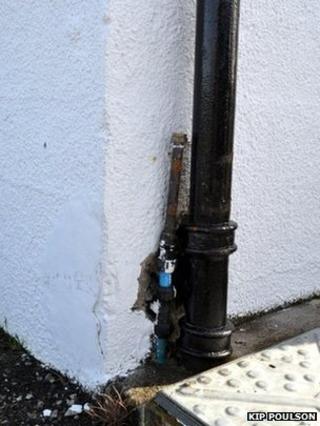 Residents on the Isle of Coll have succeeded in their bid to have the island's free water tap turned back on.
The un-metered tap at Coll pier, which was used by tourists and households not connected to the mains supply, had been switched off following water shortages.
There were concerns it would leave some islanders without access to safe drinking water.
Now Argyll and Bute council has said it will be restored "as soon as practicable".
Drinking water is available at other points on the island, such as local campsites and community centres, but there is a charge.
Members of the community council said people were "very angry" that it had been switched off "without warning".
Source of income
Fears were also raised that touring yachts, an important source of income for the island, would be less likely to stop there.
Scottish Water, which initially asked the council to put a cap on the tap, had insisted its priority was to ensure "paying customers get a reliable supply of water".
But the decision has now been reversed and free-flowing water will be restored.
A Scottish Water spokesman said: "Due to a period of very high demand during the summer, we asked the council to switch the tap off - enabling us to maintain supplies to our customers on the island. We are aware that the tap has been switched off recently.
"We have been speaking to the council about this and have indicated that we are happy for them to switch it back on, and will continue to speak to the council and the community about this matter going forward."