Runners celebrate murder victim Moira Jones' life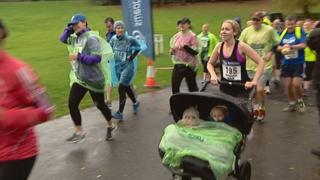 Hundreds of people have taken part in a run in a Glasgow park to celebrate the life of a woman who was killed there.
Businesswoman Moira Jones, 40, was raped and murdered in Queen's Park in May 2008.
The 5K charity run, organised by Moira's family and the Scottish Violence Reduction unit, was raising money for the Moira Fund which supports families of victims.
Her family also wanted the local community to "reclaim the park".
Speaking at the event, Moira's mother Bea said her daughter had touched many lives.
"When she died all her friends and colleagues wrote wonderful things about her and one of them sticks in my mind today," she said.
"It said 'Always warm and smiling, Moira was a magnet for goodwill'.
"From the bottom of my heart, on behalf of Moira's family and the Moira Fund, I thank you all for showing us today that not only was Moira a magnet for goodwill but she still is."
Slovakian Marek Harcar was jailed for at least 25 years after being found guilty of raping and murdering Ms Jones.