Reward offer over missing ex-prisoner Johnathan Kelly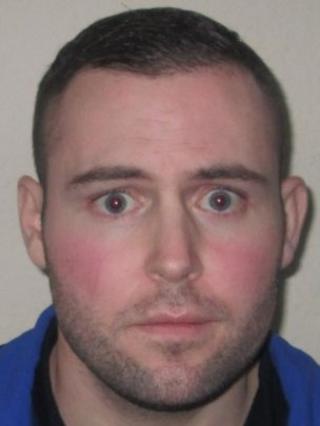 A reward is being offered for information on a missing ex-prisoner who is unlawfully at large.
Johnathan Kelly, 33, from Drumchapel, Glasgow, was freed from Low Moss Prison in August. His licence was revoked when he failed to comply with conditions.
Charity Crimestoppers is now offering £5,000 for information leading to his arrest.
Kelly is not thought to be a threat to the public but people have been warned not to approach him.
Police Scotland described him as "a risk".
In September, armed officers responded to a reported sighting and cordoned off Boyd Street in Glasgow. Kelly was not found.
Police renewed their appeal for information earlier this month.
Kelly is described as white, 5ft 9in tall, with short brown hair. He is of a heavy build.
Dave Hunter, regional manager for Crimestoppers, said: "Although Jonathan Kelly is not thought to be a danger to the public, he is considered to pose a risk and it is vital that he is found.
"There must be people out there who know his whereabouts and we urge them to contact us through our anonymous phone line 0800 555 111 or anonymous online form .
"Crimestoppers does not take any personal details from callers or those who give information through our website. We don't want to know who you are, only what you know."