Go Ape to open indoor trampoline arena in East Kilbride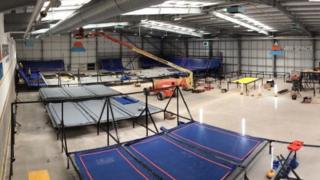 Outdoor adventure firm Go Ape is to create a huge indoor trampoline arena in South Lanarkshire.
The £2m facility, known as Air Space, will be opened later this year at the Playsport development in East Kilbride.
More than 100 interconnected wall-to-wall trampolines will offer customers a "spring-loaded urban playground".
Indoor trampoline parks are hugely popular in the United States. Similar parks run by other firms are planned for Glasgow and Edinburgh this year.
Pete Brown, operations manager at Air Space, said: "Air Space will be the first trampoline park in Scotland and Europe's largest freestyle jumping arena and we have already had an incredible response from those who can't wait to give it a try.
"Glasgow in particular has always had a reputation for embracing the new and exciting and the success of the Commonwealth Games means that the interest in sports is at an all- time high.
"It's a young at heart city with a higher than average young population of 18-25s which is reflected in its personality."