Rapist William Wardlaw told to expect 'lengthy' jail term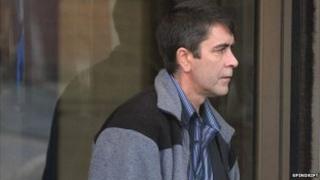 A judge has told a man who admitted raping and beating two women over a 10-year period that he can expect "a lengthy term of imprisonment".
William Wardlaw, from West Kilbride, North Ayrshire attacked the women at addresses in his home town and Largs and Skelmorlie between 2000 and 2010.
The High Court in Glasgow heard how the 46-year-old beat one woman unconscious after she said she was leaving him.
Sentence was deferred and he was remanded in custody.
Judge Lord Uist told Wardlaw: "You have pleaded guilty to a series of very grave crimes. You may take it you shall be sentenced to a lengthy term of imprisonment."
Kicked unconscious
The court heard that self-employed window cleaner Wardlaw had regularly attacked and raped both women, who he had been in relationships with.
When one victim, 43, who cannot be named for legal reasons, said she was leaving him, Wardlaw told her he was "going to teach her she was being disrespectful".
He kicked her on the face and body until she lost consciousness.
The victim woke up the next day with Wardlaw in bed beside her. She suffered five broken teeth and significant swelling to her face.
When she began sobbing, Wardlaw said: "Shut up. Don't even start crying."
The court heard that the woman was frequently assaulted and raped throughout the relationship.
Demanded sex
Wardlaw frequently demanded sex after the violence and would rape her whenever she refused.
Wardlaw's other victim was first assaulted by him in 2000 after he accused her of flirting with another man.
He slapped her so hard on the face that she suffered a black eye and told her: "That's what you get."
On another occasion in 2002 he grabbed her by the hair, pulled her to the ground and then kicked her after she refused to wear the outfit he wanted her to.
In 2006, when the 35-year-old woman told Wardlaw she was leaving him he kicked her in the stomach and threw her to the ground and made her promise not to leave.
The court heard that he would often demand sex after he had assaulted her.